(Posted On November 1, 2011 by admin)
Web Archive Download
There may be situations when you need to download files from the web or internet archive. We know that since 1996 Internet Archive non-profit organization archives various kinds of web content including texts, audio, moving images, software and archived web pages.
Web archive downloading is extremely needed for those who want to recover their lost website.
Download website archive
People may need to download the archive of their website for many reasons. The most coomon reason for downloading website archive is the problem of losing your website. Website lost may be caused because of not paying for your domain name or not renewing it, not paying for your web hosting or not renewing your web hosting subscribtion, not making backups of your website, deleting some files in your web hosting file directory, if your website was using some kind of script making changes in it's coding etc.
Recover lost website
The best solution for recovering lost website is downloading it's files from the web archive. There are not so many options for doing it. The best tool to download lost website files to recover your lost website is Web Archive Downloader which is a powerful, modern software for downloading web site archive. With the help of Web Archive Downloader you can quickly and conveniently download all types of archived web content including HTML web pages, style sheets, JavaScript, images and video.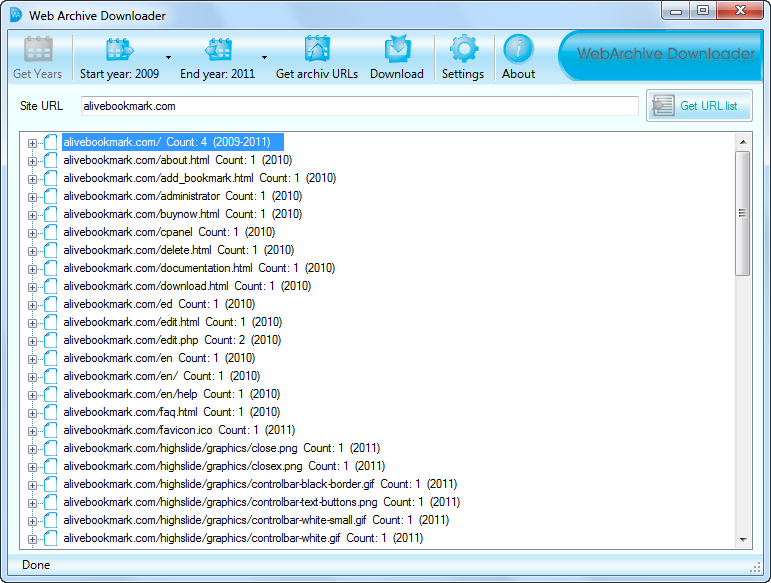 In order to download from the web archive just start Web Archive Downloader, enter lost website URL, start year and end year and Get URL list and click Download. With these simple steps you wil quickly and conveniently download the files of your lost website. After upload the files to your web hosting (use HostGator.com) and have your lost website recovered.
If your lost website was using some kind of script and your lost website files had "?",  "&",  ";" symbols in their names which may cause problems as file names can't contain such symbols in Windows. You can solve this problem by using Recover Website free script.
(Posted On October 29, 2011 by admin)
In some cases Web Archive doesn't archive all resource files of webpage (images, Flash animations, CSS style-sheets e.t.s) and after recovering the website has a seedy look.
Solution for images:  There are many services which keeping the screenshots of websites. So you can find an old screenshot of the website. Detect missing images, then find out the sizes (width and height) in pixels from HTML code of web-page (for example <img src="….." width="100″ height="200″).  Next step: Open the screenshot by image editor, cut out needed areas and create new images (with same sizes in our example 100×200 pix.). Afterall upload images to corresponding folders of website (usually it /images/, /imgs/ or /pictures/) .
Solution for CSS style-sheets: If your website was based on tired party CMS  like Worfpress, Joomla and e.t.c (in 80-90% cases), you can find other website based on same CMS with same version and term and download missing CSS files.
Anyway, if you can't repair website yourself, you can apply to professionals, which can recover and repair you site.  It'll be much cheaper than order a new website. Just fill the simple form. They'll consider your request in short time. If it is feasible to recover, they'll do it.
(Posted On October 18, 2011 by admin)
For many years on the web, when a website webpage was taken out of the internet it was lost forever. However, nowdays we can look through Wayback Machine to retrive a lost web archive file if it was around long enough to have been indexed.
As we know since 1996 there is a non-profit organization located in San Francisco that collects and archives various kinds of web content including texts, audio, moving images, software and archived web pages. This organization is called Internet Archive.
The main goal of Internet Archive is to extend functions of libraries into the digital world. The Internet Archive is made to prevent the loss of Internet and other "born-digital" materials.
Web archiving is defined as the process of collecting portions of the World Wide Web and ensuring the collection is preseerved in an archive, such as an archive site, for future researchers, historians, and the public. Web archivists generally archive all types of web content including HTML web pages, style sheets, JavaScript, images and video. They also archive metadata about the collected resources such as access time, MIME type, and content length. This data is useful in establishing authenticity and provenance of the archived collection.
If you want to browse internet web archive you can use Wayback Machine with the help of which you can browse through more that 150 billion web pages archived since 1996 to a few months ago. Wayback Machine is maintained with content from Alexa Internet. The service enables users to see archived versions of web pages across time. Internet Archive has bought the domain waybackmachine.org for their own site which is currently  in its beta test.